As part of the Unified Community Platform project, your wiki will be migrated to the new platform in the next few weeks. Read more here.
Hillgrund's Tomb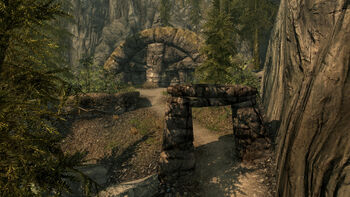 Hillgrund's Tomb is a Nordic ruin located east of Whiterun, near the Valtheim Towers. The tomb is invested with many draugr, a draugr deathlord and a frostbite spider.
At the entrance a quite distraught Golldir asks for assistance to find and defeat the warlock Vals Veran, and to ascertain the fate of his aunt Agna.