Falkreath Barracks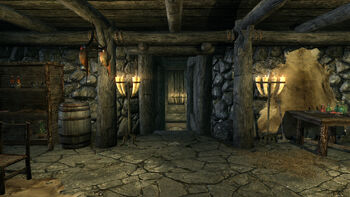 The Falkreath Barracks are located in the city of Falkreath next door to Grave Concoctions.
Among several books, a copy of Killing - Before You're Killed and The Legendary Sancre Tor are stored.
The Falkreath Jail is located in the cellar of the Falkreath Barracks and this is where the prisoner, Sinding, is being held. The jail also features an Evidence Chest and a Prisoner Belongings Chest.