As part of the Unified Community Platform project, your wiki will be migrated to the new platform in the next few weeks. Read more here.
Bonechill Passage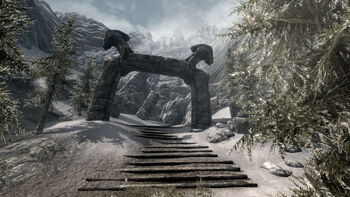 Bonechill Passage is a small passageway leading to Ancient's Ascent. It is located south of and roughly halfway between Pinewatch and Helgen, i.e. south-east of Pinewatch and south-west of Helgen, almost due west of Greywater Grotto.
The passage is guarded by an Ice Wraith and a Frost Troll.