Blind Cliff Cave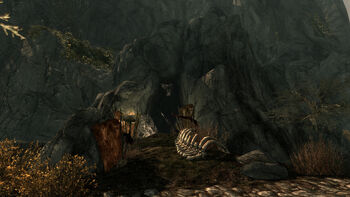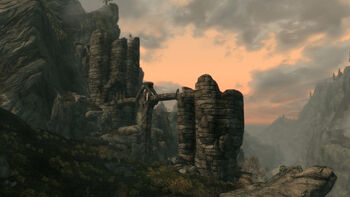 Blind Cliff Cave is located just off the main road along the Karth River, south-west of Karthwasten. Near the upper exit from the cave is a copy of the Light Armor skill book The Refugees.
After exiting the caves, an imposing tower connects to the Bastion.
The upper exit from the cave leads to two Nordic towers connected by a bridge which lead to Blind Cliff Bastion. Inside the bastion is a hagraven called Melka trapped in a cage. The area is rife with traps and puzzles. There is also an alchemy lab, a cooking pot and two Quicksilver Ore Veins.
Ultimately, after a few Forsworn, there is Petra, the other hagraven who imprisoned Melka.
Cave:
Towers:
Bastion: