As part of the Unified Community Platform project, your wiki will be migrated to the new platform in the next few weeks. Read more here.
Abandoned Shack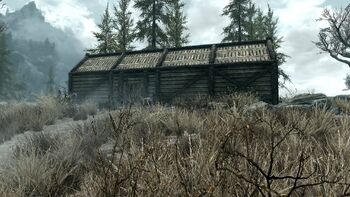 The Abandoned Shack is located almost due north of Morthal and east-south-east of Solitude.
The shack requires the Abandoned Shack Key to open, that only becomes available during With Friends Like These…. It is the location to which the Dragonborn is brought by Astrid after killing Grelod the Kind, marking the beginning of the Dark Brotherhood quest line.